LemurPack I [ Estimated Price: $N/A* ] (under development – get on email list for this product)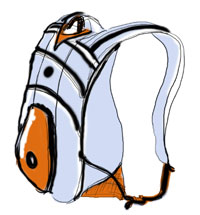 This is a backpack designed by Pick'n Run for the purpose of holding trash.  The backpack holds snug to a runner's body to ensure comfort of carrying backpack while running.  It has an inner liner that helps ensure the trash stays in the backpack (and doesn't "leak").  The inner liner can be taken out and washed.
Note: The name LemurPack comes from the animal, lemur, which is a scavenger.  When we are picking up trash, we are acting like scavengers — in a good sense.
* The price provided is an estimated price.  The actual price, once the backpack has been designed, could change based upon the design and manufacturing costs.