HawkPack I [ Estimated Price: $N/A* ] (under development – get on email list for this product)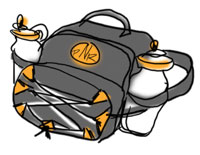 This is a waistpack designed by Pick'n Run for the purpose of holding dry trash.  The waistpack is similar to the backpack, but is worn on an individuals waste.
* The price provided is an estimated price.  The actual price, once the waistpack has been designed, could change based upon the design and manufacturing costs.